Torsion Springs
Unlike a compression spring and a tension spring, a torsion spring uses repulsive force against the rotation direction. A torsion spring enables use of repulsive force with a simple structure.
Torsion springs are used in a variety of components such as automatic hinges and seesaw switches.
What is a torsion spring?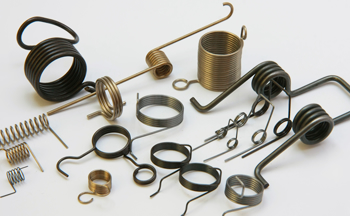 A torsion spring is used in combination with a guide rod through the spring hole to obtain repulsive torque.
Twisting a torsion spring causes repulsive torque. Torsion springs are used in many devices and precision equipment. In many cases, the straight wire parts at the spring's both ends are designed specially for components to be used.
Proper method of using a torsion spring is twisting its coil tighter. When twisted, the coil diameter becomes smaller. Therefore, a guide rod (which prevents the coil from being distorted) is usually designed to be 90% of the spring hole at the maximum load.
Torsion springs are typically made of piano (steel) wires or stainless wires, but they can also be made of special materials such as oil tempered steel wire, plated wire, phosphor bronze wire, and inconel alloy wire.
Manufacturing method are basically the same as the cases of a compression spring and a tension spring. However, because a torsion spring has arms, sometimes one more process is added to machine the arm parts.
Torsion springs of Sasaki-Hatsujo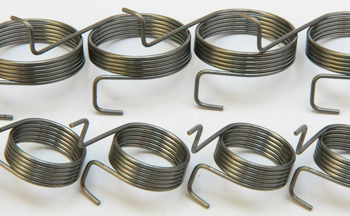 Sasaki-Hatsujo excels in manufacturing wire springs (coil springs) with small coil diameters using thick wires.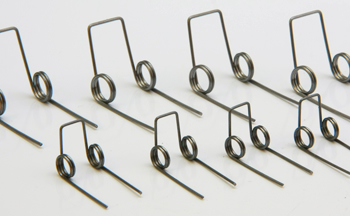 As for torsion springs also, we can satisfy the strict specifications of customers.
With its long experience, Sasaki-Hatsujo calculates the degree of change which will be caused through manufacturing processes and makes the products which meet your strict specifications.
Specifications for torsion springs
Sasaki-Hatsujo manufactures torsion springs of the following specification range.
| | |
| --- | --- |
| Wire diameter | 0. 1 mm to 10 mm |
| Angle of twist | 180 degrees or more |