About Us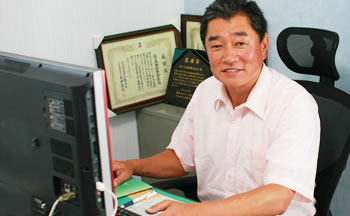 Many industries have been developed at a remarkable speed recently. Accompanying with this development, parts and components for machines, devices, and equipment have become more and more diversified.
Since starting the business in 1940, Sasaki-Hatsujo has been devoted to manufacturing a wide range of springs from small-lot handmade ones to high-volume machined products to keep up with developing technologies and diversified requirements.
With our leading edge equipment and know-how, we are manufacturing and providing products of various types and sizes in various industrial fields, such as oil filers for heavy machinery, cargo handling equipment, hydraulic machinery, automobile, railroad cars, and electrical equipment.
Our long-time engineering experience combined with leading-edge technology assures highly reliable, quality products.
We promise that we always make our best effort to meet individual customers' demands.
Takehiko Sasaki, President
Staff introduction

Company Profile
Company name

Sasaki-Hatsujo Co., Ltd.

Foundation

1940

Head Office

1-1-29, Higashikojiya, Ota-ku, Tokyo, 144-0033, Japan
+81-03-3743-1336
+81-03-3744-5407

Nakaniida Factory (Miyagi-ken)

37-2, Minamimachi, Kami-machi, Kami-gun, Miyagi, 981-4241, Japan
+81-0229-63-4851
+81-0229-63-7376

Thailand Factory:TAK SPRING INDUSTORY Co.,Ltd

300/114 Moo 1, Tasith Subdistric, the district of Pluakdaeng, Rayong 21140 Thailand
+66-0-38-950-273
+66-0-38-950-275

Capital

10,000,000yen

Representative person and board members

President: Takehiko Sasaki
Director: Noriko Sasaki
Director:  Keishin Nakajima
Auditor: Yoshiko Nakajima

Description of business

Designing and manufacturing wire springs (compression springs, tension springs, torsion springs), formed parts, and special shaped springs
History
November 1940

The founder, Ryogo Sasaki, left Tsukishima-Hatsujo Co., Ltd. to establish Sasaki-Hatsujo Manufacturing Firm at 2581 Kitakoujiya, Ota-ku, Tokyo, starting the business by designing, manufacturing, and selling springs.

October 1953

Sasaki-Hatsujo Manufacturing Company was established as a limited partnership company. Ryogo Sasaki assumed the presidency.
Capital: ¥300,000

January 1963

As the business developed, the capital was increased to ¥1,200,000.

June 1964

Moved to the current location (1-1-29 Higashikoujiya, Ota-ku, Tokyo).

June 1964

Nakaniida Plant was built in Miyagi-ken. (37-2 Minami-machi, Kami-machi, Kami-gun, Miyagi-ken).

June 1981

Sasaki-Hatsujo Manufacturing Company was converted into a stock company and changed its name to Sasaki-Hatsujo Co., Ltd.
Yoshihiko Sasaki assumed the presidency and capital was increased to ¥5,000,000. Sasaryo was spun off as a corporation owning the land and building.

March 1995

Noriko Sasaki took the presidency.

October 1995

Capital was increased to ¥10,000,000.

March 1998

Takehiko Sasaki assumed the presidency.

May 2018

A new company building and factory was completed.