Compression Springs
Most popular type of springs.
Made of various types of materials with various types of machining methods. If you need springs of small coil diameter with large wire diameter (i.e., with small D/d), please contact us.
What is a compression spring?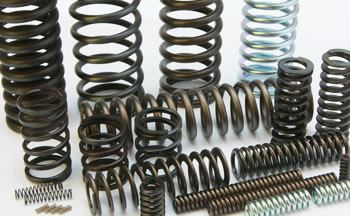 A compression spring, also called a coil spring or a push spring, is a commonly used spring (see the photo). Compression springs are available in various sizes and with various wire materials.
When pressed, it is compressed to cause repulsive force.
Compression springs are typically made of piano (steel) wires or stainless steel wires, but they can also be made of special materials such as oil tempered steel wire, plated wire, phosphor bronze wire, and inconel alloy wire.
Compression springs are made using a special machine called a coiling machine onto which long wire material is set. Then they are made through the processes of low temperature annealing, end grinding, shot peening, presetting, cleaning, rust-proofing, and inspection. In this way, they are manufactured by forming wire material at room temperature.
Compression springs of Sasaki-Hatsujo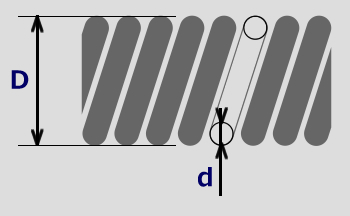 Sasaki-Hatsujo excels in manufacturing small diameter coil springs out of thick wire materials.
We manufactures coil springs with a strict D/d (ratio of coil diameter to wire diameter) condition. Our compression springs with small D/d radio are best suitable to a narrow space.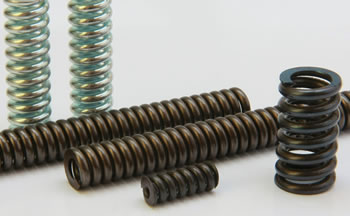 While manufacturing compression springs, their sizes and shapes become different than those intended due to return by residual stress through the manufacturing processes such as low temperature annealing, shot peening, and presetting. Difference becomes larger for springs with larger wire diameters.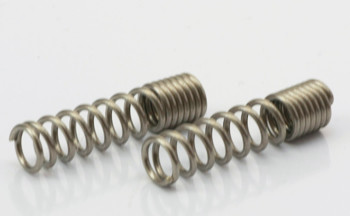 With its long experience, Sasaki-Hatsujo calculates the degree of change which will be caused through manufacturing processes and makes the products which meet your strict specifications.
Specifications for compression springs
Sasaki-Hatsujo manufactures compression springs of the following specification range.
Wire diameter
0. 1 mm to 16 mm
Extended length
3,000 mm or more
D/d
(ratio of coil diameter to wire diameter)
3 or less